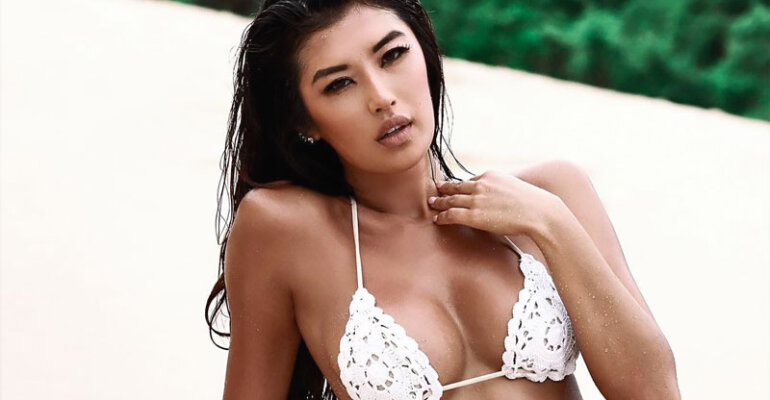 ThaiCupid: What's Good And What's Bad. Full Review
Thai Cupid is one of two most popular Thai dating websites in the world. There are more than 1,000,000 users here, which means that literally hundreds of thousands of hot and single Thailand ladies use this site. And yes, they are waiting for you!
Here, you'll find a full Thai cupid review by our international dating experts. If you want to know all the details about this dating site, well, just continue reading.
Protection: is it a safe site?
We'll start with the protection. It's the number one priority for every dating website, so we highly recommend to choose only safe and protected dating venues. The thing is, you share your credit card details, like card number, expiry date and CVV code with such websites — so of course, it must be guaranteed that this information won't be stolen or misused. The same is about your passwords, messages, and other sensitive information. Strong protection is the must for every dating website, that's a fact.
But it's not about protection only. Unfortunately, scammers are a real problem for some men who are looking for foreign girlfriends and wives. Before using a dating site, you'll have to make sure it has a strong anti-scam filter. The problem is, it may be quite a time-consuming process — but the good news is that you don't have to do it by yourself. We've already tested everything, so let's talk about Thai Cupid protection.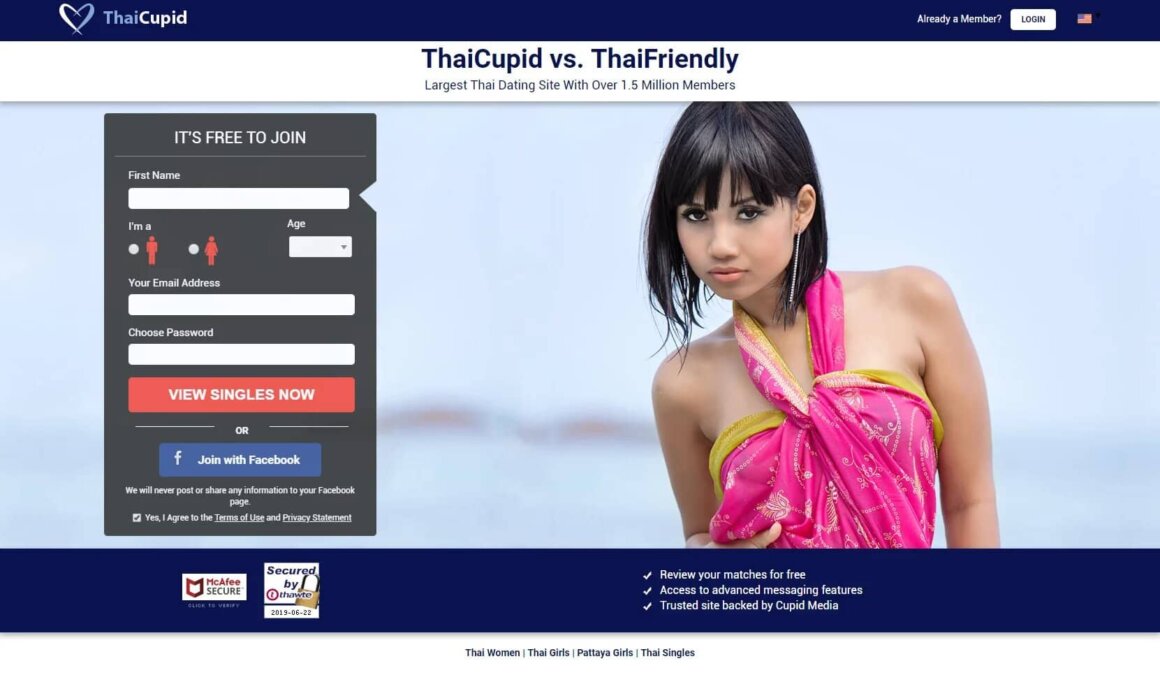 Password and payment security
Long story short, your financial and personal data is protected on Thailand Cupid. This website has a 128-bit SSL encryption, which protects all the data from being intercepted. No one will steal your login and your password, and, what's even more important, no one will steal your credit card details. The privacy policy is strong here, too — this site doesn't share the information it collects with third parties. We've studied lots of ThaiCupid reviews, and no users had such problems with this dating website.
Verification of profiles. Anti-scam
The main verification method here is an email verification, and yes, we understand that it may sound like a problem. Like, some other dating websites use offline services to verify the user's identity, and some of them check women's ID cards to verify that the names and other personal information match. Against this background, the verification system of Thai Cupid dating site looks, well, quite weak. What's more, even this email verification is optional!
Yet, it only looks weak until you figure things out. The thing is, there is also a strong verification method — to verify your page, you'll have to provide them a copy of your identification document. Of course, you don't have to do it, but thousands of women do — and it's just great, because if you chat with a woman who has a validated profile, you can be sure that she is definitely not a scammer, and that she is 100% a real person. In case you want to make your profile validated on ThaiCupid, here's what you should know: any government-issued document will work well (like driver's license, the US Passport Card, and even your Social Security number). The document must be valid, and of course, it must include your photo (to make sure that it's really you). So, if a female account is validated, the owner is definitely who she represents herself to be, therefore you don't have to worry about scam or fake profiles.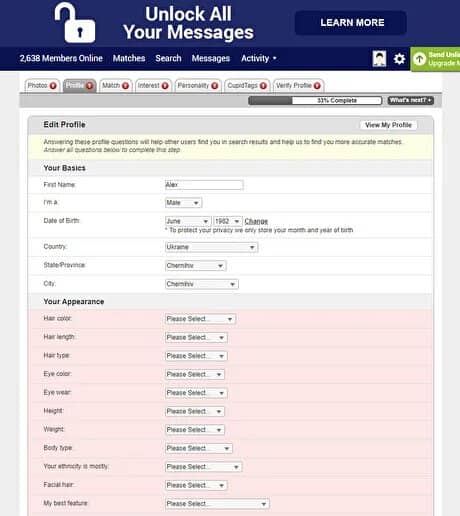 So, this is a paradoxical situation: there is a weak email verification here, which is not necessary, and at the same time there is a strong ID verification (which is optional, too). It's only up to you to choose how to verify your account (you can skip this step at all!), but we recommend to provide them the copies of your driver's license or SSN.
Website, interface, mobile
So, you see the best, the biggest and the most popular Thailand dating service. What do you expect to see when you open its website? Yes, you expect this site to be the best — the most comfortable, and with the best design.
Interface
Thai Cupid dating site looks presentable. The interface is really intuitive here and it's very simple, the color scheme is not too bright, all the buttons are exactly where you expect them to be, and, well, you will most likely not have any problems with this site even if you are not a "professional online dater". Profile information, "Show Interest" and "Send Mail" buttons — everything is good here. We even thought that it looked a little like Facebook, so, well, it's definitely not bad.
Mobile application
If you spend more time with your mobile phone that with your PC or laptop, here's another piece of good news — Thai Cupid has a really good mobile app. It means that you won't have to use your browser to open this site anymore — let's be honest, it can be really uncomfortable.
The mobile app is really good. It has the same functions as a PC version, and you will certainly enjoy your mobile dating experience. The only problem is that there is no iOS version of the app — so if you have an iPhone or an iPad, you'll have to use your mobile browser. Our congratulations to all the Android users!
Prices on Thailand Cupid
Is the site cheap or expensive?
Some dating sites are not free. Like, at all — you'll literally have to pay for every letter on such websites (and we don't just mean your letters, you'll have to pay to read the letters, too!). We think that it's not the best pricing policy in the world.
This dating service has a completely different pricing model. Here, you will pay only if you want to — but it's not necessary. There are lots of free functions here, and you can literally find a woman, write to her, and even arrange a meeting without paying a dollar! Continue reading this Thai cupid website review and find out about the free functions, paid functions, and payment methods!
---
Pricing policy. Why to pay
As we've already said, you don't have to pay here. With a free account, you'll be able to use search filters (but not all of them; we'll talk about the basic and advanced search later), as well as to express your interest in women. You will even be able to write messages to women — but only to those of them who have a premium account. So, it's certainly not necessary — but buying a premium membership will make everything much easier for you. Let's see, how.
The next grade of membership is Gold. "Gold" members can write messages to all the members of the site, they can use live chat (we believe that sending instant messages is the most comfortable method of communication here), they can send emails, and, what's important, they don't see any ads.
Gold membership costs:
| | |
| --- | --- |
| 1 month | $35 |
| 3 months | $70 |
| 12 months | $140 |
The last option ends up being the cheapest one — if you buy a yearly Gold membership, you only pay $11.67 for a month. It's only 39 cents per day!
The last level is the Platinum level. If you buy a Platinum membership, you'll get additional searching options, your account will be highlighted and ranked above all the other accounts. But the best thing about the Platinum subscription is the translation services. If you buy it, you'll be able to translate all the messages from Thai to English for free!
It's only 5 dollars more expensive than Gold subscription if you count!
---
Payment methods and refund
There are many payment options on ThaiCupid. Unlike other Thai dating sites, this one accepts payments by PayPal, credit cards, and even direct bank transfers from your bank account!
Please, note that your membership is automatically renewed here, which means that a certain amount of money will be charged from your balance every month/3 months/12 months (depending on your subscription plan). If you want to cancel it, you'll have to do it manually in the Settings section.
You'll be able to get a full refund if you have any technical problems or if you can't open the website. If you bought a Gold or Premium subscription and haven't written (and received) any messages, you'll be able to get your money back, too.
Registration and search options
How to register a profile here? How to create a profile that will attract women? What about searching options? Here, you'll find all the answers to these questions!
Signing up to Thai Cupid
Registration is very simple. You'll have to enter your first name, email address, and password, to choose your age and your gender… And that's all. 30 seconds (40 if you'll create a really strong password), and you can start searching for ladies. Simple as that, right? Another cool thing about the registration is that you don't even have to use your email actually. There is a Join With Facebook button here, so you can just click on it and voila, it's done.
There is no "matching algorithm" here, so you won't have to answer all those questions about your personality and about your ideal woman. On the one hand, it's great, because you won't waste your time on it. On the other hand, you'll have to find your future girlfriend or wife by yourself — but don't worry, because it's very simple here, too.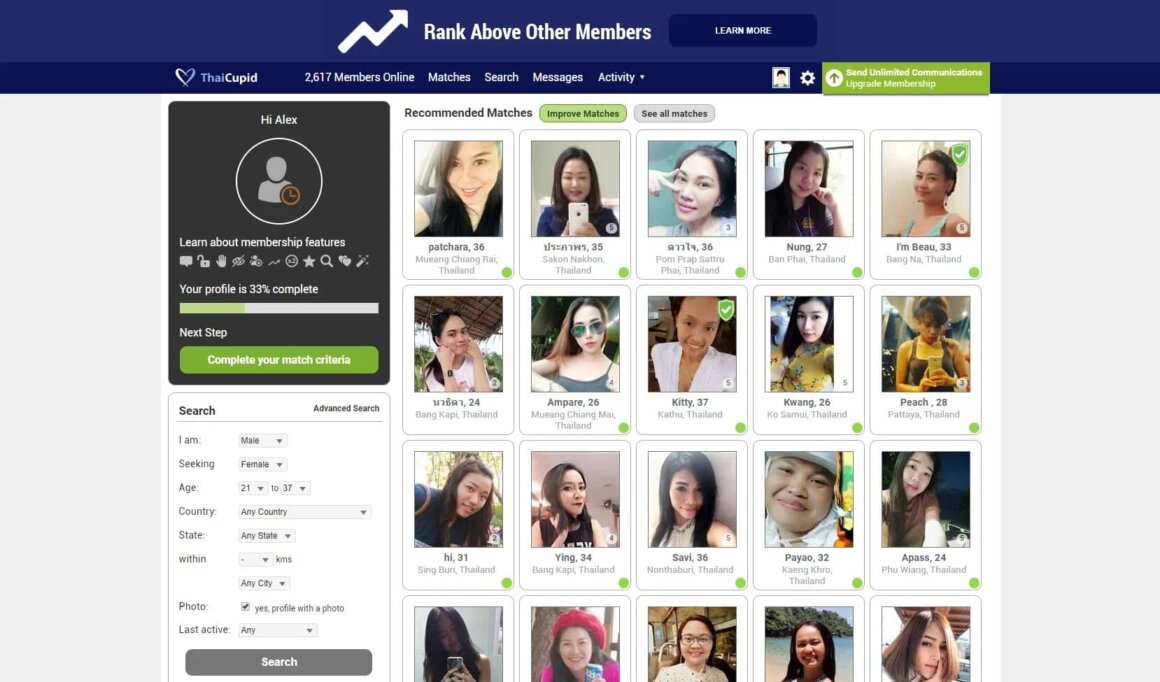 Searching options and filters
On ThaiCupid dating site, you can either use the basic search or go for an advanced one.. Basic search is free, and it's a very simple function — you choose the age range, country, the relationship goals, and sort the results by last active date, by registration date, by distance, and by member grade. We also recommend checking the "Has a photo" box to see only the profiles with photos.
Advanced search is more complicated and functional. If you buy Gold or Platinum subscription, you'll be able to use such search filters as:
hair color
hair length
eye color
height
weight
body type
ethnicity
habits
etc.
You can filter the ladies by languages spoken, religion, nationality, employment status, living situation, and that's not all. Advanced search on Thailand Cupid is definitely much, much better than a basic search, and we highly recommend to buy at least Gold subscription in order to try it!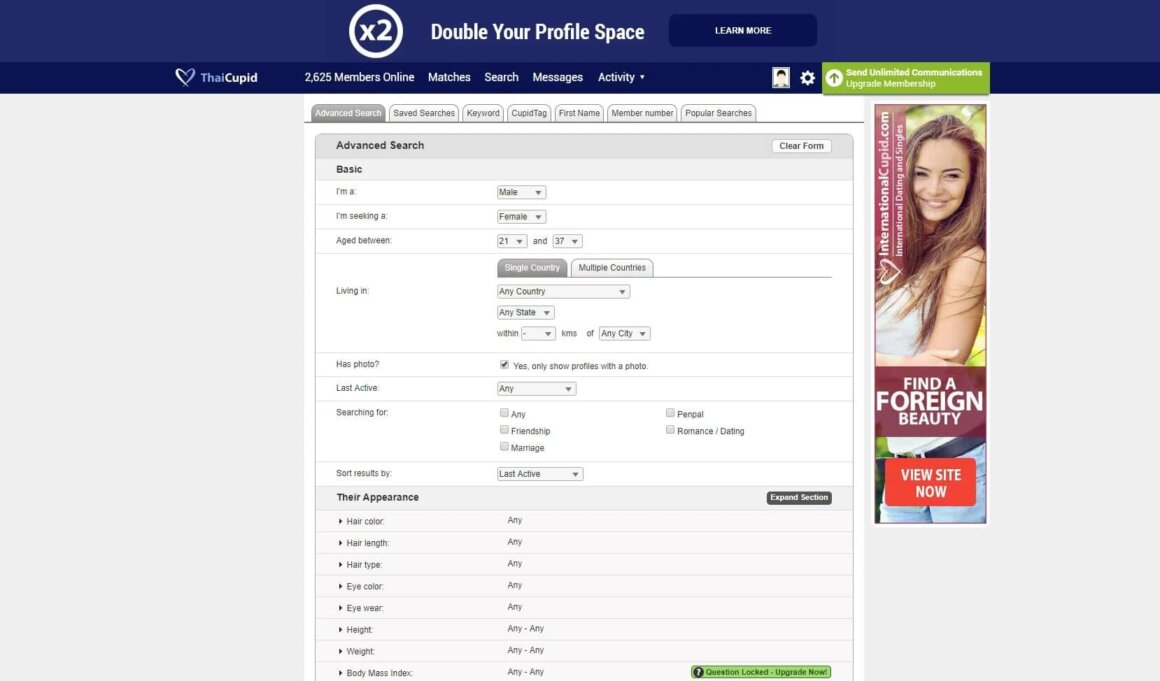 How to create an attractive profile?
It's not so difficult to create a good profile that will attract ladies. Here you'll find 5 short tips on how to do it — follow them and you will get much more messages than usually!
1
Add the best photos. It's necessary — we recommend to choose both your best professional studio photos and your best selfies. Full-body photos will work even better.
2
Write about yourself. But don't write an essay — a dating website is not the best place for long descriptions.
3
Be honest. If you want a Thai woman to be honest with you, then be honest with her — tell her about what kind of relationships you are looking for, and don't try to hide anything.
4
Be fun, but not hillarious. A sense of humor is a must-have if you want to attract ladies, of course, but Thai women are different. Thus, it's not in Thai culture to be sarcastic, so your cool sarcastic jokes will most likely not work here.
5
Be a gentleman. Thai ladies expect you to be a prince and a knight in shining armor, so be him! These women adore respectful and polite men from Western countries.
ThaiCupid: Reputation and history
We've seen lots of Thai Cupid reviews, and the absolute majority of the authors ignore the reputation question. We believe that it's extremely important — because if a website can't be called trusted and reputable, we just can't recommend using this site.
As for ThaiCupid, well, there are no such problems here. It's run by the company, called Cupid Media. This network was established in 2000, and it operates a dozen of niche dating sites, which are focused on women from different countries. According to the feedbacks, all these websites have strong anti-scam filters and ID verification (optional). All of these sites are 100% trustworthy, and they all have only positive reviews. Well, maybe not "only", but at least 99% of them are positive.
Pros and cons: is ThaiCupid good?
So, at the end of the Thai Cupid website review, let's summarize. What are the pros of this website? Are there any problems here? Let's see.
Pros
Mobile app
It's comfortable and fast, and it's completely free to use.
Strong protection
128-bit SSL encryption protects all your personal and financial data.
Free services
Register, write, like, search, view and upload photos — it's 100% free.
Low prices
Both gold and platinum subscriptions are quite cheap here ($140 and $160 per year, respectively).
Payment methods
You can pay by credit card, bank account, and PayPal.
Advanced search option
The number of search filters is literally huge here!
Cons
No iOS app

Only Android users can use the mobile app.
ID verification is optional

We would have preferred it to be obligatory to make sure that 100% of women are real, but, well, we understand that this website wouldn't be so popular if it was obligatory.